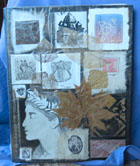 Artworks by
Mirjam D. Koenig

The artist
Mirjam D. Koenig was born in Switzerland and spent her youth in various European countries. Being born into an artistic and multi-cultural family fostered an early aesthetic appreciation. Exposure to visual stimuli soon found its artistic expression.

Parallel to her artistic career, Mirjam trained and worked in advertising/marketing, but later became a teacher. At the age of 30, she migrated to Australia. This country presented a new and fertile breeding ground for artistic ideas and their realisations. Works of early Australian exhibitions were in fibre/fabrics, multi-layered silk work, handmade paper, cast and moulded.

Australian multi-culturalism especially, combined with her own colourful background, prepared the way for Mirjam's research into the "Arts of Body Decoration". This research culminated in the exhibition "SkinDeep" (April/May 2000).

The following images show a selection of recent works:



From the Mountain
to the Sea

9 metres square
Silk

Commissioned by the
Byron Shire Council
Skin II

50 cm x 58 cm
Silk
metallic foils
silk threads
Image

44 cm x 44 cm
Soft pastel
inks
gold leaf on paper
Ubana

47.5 cm x 31 cm
Oil pastel
gold leaf
metallic pigment inks
Green Woman

18 cm x 18 cm
Handmade paper cast
soft pastel





Silk - Mixed Media:


"Fields"
Silk 2002

Multi-
layered silk
embroidery
"Fields" detail
Silk 2002

Multi-
layered silk
embroidery





Pencil and Crayon:


Townsville
Hills

Soft pastel
Washpool Creek

Soft pastel
Bark

Pencil

Honeyshed

Pencil

For viewing of available artworks and further
information please contact Mirjam D. Koenig.
Click here to e-mail the artist: